News & Updates
New Site
We have revamped our site. Our old site was feeling a bit clunky and dated, so we have a new look for the New Year. You will enjoy many of the same features and designs, but if there is something you are looking for that you can't find, be sure to let us know and we will be happy to help!
Ongoing Promotions
For those of you wanting to give your bike a new look now is the time to schedule your job with us. Please call us at 541-359-3340 for any specials we may be currently offering. It would be a pleasure to discuss your ideas and visions as well.
Active Duty Service members always receive a 10% discount off paintwork done at CEI as our thank you for all you do!
We've moved!
We are still offering the same great product, in a new location. In February 2013, Cutting Edge took the leap and moved into bigger digs. We are still located in Eugene, Oregon, but have moved in to a new building with space for both of our full sized coach booths, our cross-flow booth, our infrared oven as well as all of our other awesome toys. Our new address is:
Cutting Edge Illusions
120 Cleveland St. Unit 1B
Eugene, OR 97402
Factory Finish Paint Service
In addition to our award-winning show finishes featured on our site, we are now offering our Factory Finish service. This service is a new offering targeted at those who are looking for a quality new look but don't
need personal customization, one off art, or all the extra attention to detail required to make a show winner. Factory Finishes start at a budget friendly $550 for 2-color blends and $950 for one of the Factory Finish designs on many 3-piece sets (tank and fenders). For more information or designs, check out the Factory Finish section on our site.
Kicked Back Style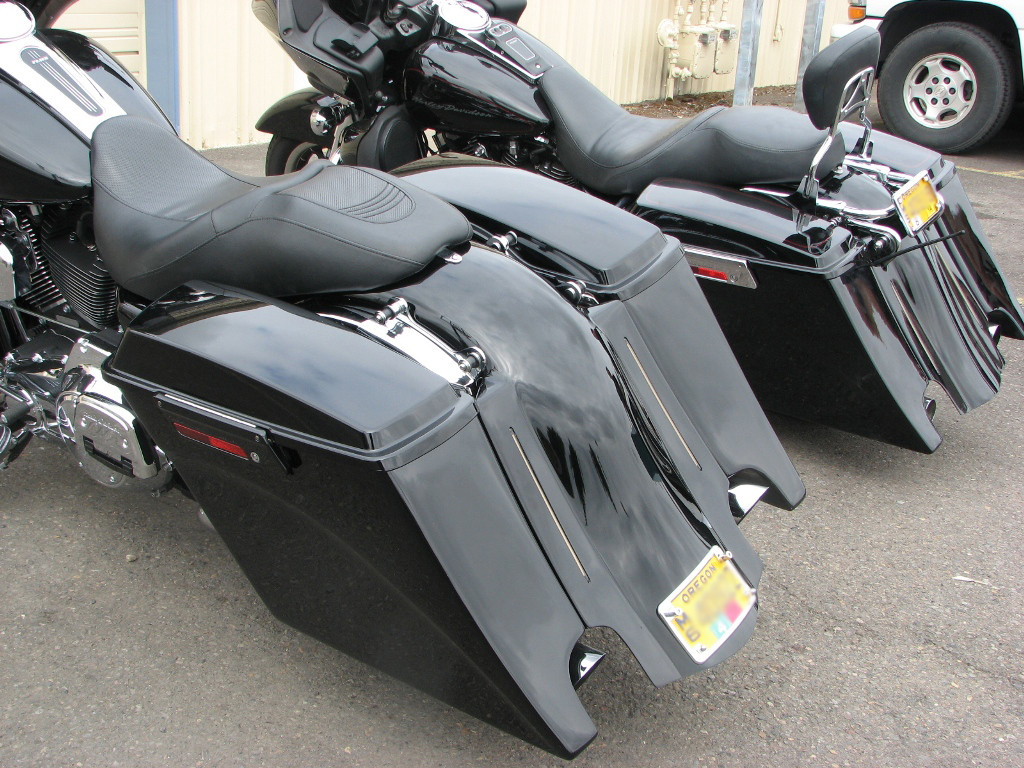 Now available--Stretched bags and fenders for baggers with a unique kick-back that adds length to compliment the four inch drop in this set. These bags work with your stock mounts, lids and hard
ware, and the fenders we offer are replacement fenders not covers. Check them out for yourselves in our store.